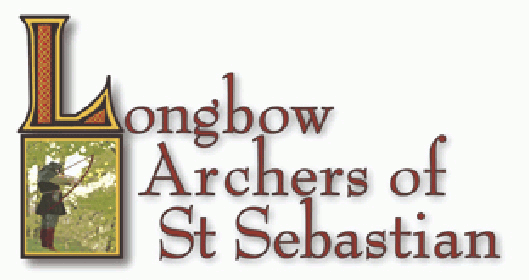 Longbow archers of St.Sebastian
A group of six formed the Longbow Archers of St Sebastian (LASS) in September 2005. From humble beginnings the club now has 28 members including a thriving junior group. LASS is affiliated to the BLBS. The Longbow Archers of St Sebastian is a club named after the patron saint of archers and, as the name indicates, we are dedicated to the use of the English Longbow. Originally, we shot at what was the Newlands college site near Chalfont Common. The land was sold to developers and we had to move on. There followed an uncertain time as potential new shooting locations were sought, but a chance conversation in our local, The Blue Ball led to a telephone call and then to the club running a have a go archery session at the Bellingdon and Asheridge Village Fete in 2009.
Hearing of our homeless state, the village hall committee offered us the opportunity to hire the recreation ground which we gratefully accepted and our club is now a regular feature on Saturday mornings at the village hall site.
Of course, longbow archery taking place in the middle of a village has a pleasing historical resonance. The requirement of villagers to practice at archery and to keep arms, including bows, was once law and as early as the 12th century archers were exonerated from a charge of murder or manslaughter if, while at practice on a recognised archery ground and after calling stand fast (now abbreviated to fast) they accidentally killed a passerby. I hasten to add this freedom from prosecution has long gone!
Archery of Old
The importance of skilled archers and the dominance of the English war bow, as a feared weapon is hard for us to appreciate now. Records of battles where the longbow was used began in 1118 and the last recorded intention to use the longbow in battle, when it was long obsolete as a primary weapon, was 1627. In between those years the longbow proved decisive in many encounters, such as Crecy (1346) and of course Agincourt (1415).
The formidable war bow, we know from examples recovered from the sunken Tudor warship Mary Rose, were made predominantly of yew and were around 78" in length. Their strength or draw weight (the amount of pull required to fully draw back the bow and release the arrow) varied between 90 and 130 lbs. This would be needed to ensure a heavy arrow had the ability to penetrate armour, and to shoot a distance of around 200 yds plus. It must have taken both skill and significant strength to use these bows, hence the value and status of archers at the time.
Today's recreational archers use much lighter bows than their military predecessors and our club bows range between 20 and 40 lbs. Most experienced male archers will use a longbow of around 40-60lbs and women archers around 30-40lbs draw weight. Modern longbows are made of a sandwich of different woods, like lemon wood. A single stave of yew is still prized (and expensive) for a longbow. The bows are all handmade and can still be quite beautiful.
Modern Archers
Longbow archers are a friendly lot, and our club aims to promote the shooting of longbows in a relaxed, safe and friendly environment. We can shoot target up to 100yds and we have the loan of an adjacent field to shoot up to 180yds clout. Archery is suitable for all ages, although children would need to be around 12 years in age before they can manage a longbow We shoot all year round. If you would like to try this interesting and different sport, contact the Chairman, Nick Ellender on (01494) 785495 and a taster session can be arranged or come and see us at the Hall playing field any Saturday morning from 10a.m.